© 2017 Rose Electronics Italia - Tutti i diritti riservati.
Via Monza, 16 - 23870 Cernusco Lombardone (LC) - Italia
Tel. Ufficio / Fax: 0039 0392912526, Cell.: +39 3291768522
P.IVA IT03479090130
.

PRODOTTI
---
Venite a trovarci
ai prossimi eventi
Features:

• Automatic Plug and Play installation
• USB Keyboard / Mouse / Touch screen
• Supports DDC / EDID monitor information
• Local and remote monitor
• Transparent USB 2.0 extension
• Full HD 1080p 1920x1080 @ 60Hz
• Compatible with all CAT5/6/7 cables
• Flash firmware - upgradeable without cable
• High reliability, rugged design
• 19 "rack mountable
• Ultra compact: up to 4 channels in a 19" 1U
• Sound and RS232 via external USB adapters
The Masterline KVM Extender MVX2-Fibre is optimized for state of the art signals such as DVI and USB. The transmission distance of 500m is completely lossless. The transparent USB 2.0 interface supports keyboard, mouse, tablets and touch screens, sound modules, printer, smartcard readers, serial adapters and more. Memory Stick / Harddisk support available by switchable USB Memory option.

If required, a singlemode SFP Module can be used for a distance up to 20km.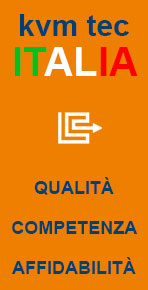 kvm-tec masterline MVX2-F
dual dvi/vga usb2.0 audio fibre kvm extender
500m Distance
at 2x 1920 x 1200 resolution
without loss of quality
Full HD video performance
DVI extension
Transparent USB 2.0
Plug and Play installation
Two fibre duplex cable required
Unbeatable price